We mainly breed pocket poodles (under 25 cm), also known as Tea Cup
and Tiny Toy Poodles, which reach a maximun height of 23 cm and a
weight of 2 kg when adult.
.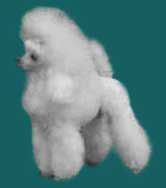 The Toy Poodle .
Of  French origin, it was used as a duck hunting dog in the French
marshes in the 1500s. Its name comes from its physical appearance
Nowadays, it has been discovered as a non sporting dog for its
intelligence and vivacity.


Temperament
Highly sociable and capable of expressing an extreme happiness. It
shows with its body vitality and energy, running and jumping whenever
it meets new people. Always willing to find its owner to start new
games and have fun. Its temperament is special with children and adult
alike. Very sensitive to notice when someone is sad or depressed and
eager to make him happy. Considered the most intelligent of all dog
breeds, it has a great capacity to learn. It's highly appreciated in
circuses.


Colors and Sizes
White, black, grey, champagne and apricot. These colors must be well
defined all over the body.The Toy Poodle ranges from 28 to 25 cm.


Care
There are several ways to highlight its beauty and shape. The
frequency of baths goes between a week and fifteen days,